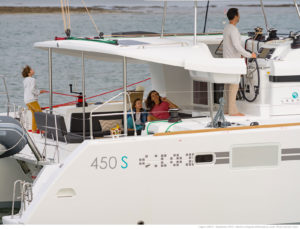 Lagoon was the first catamaran  shipyard to introduce flybridge concept on his boats. it was a sort of revolution in the cata layout.
Flybridge is still very popular , mainly on charter boats , however many yachtmen happy to sail with their family on their own boat , have expressed their desire to keep the helmsman close to the living area. A safety feeling being instilled through this deck  layout
The SPORTOP version for lagoon 450 and Lagoon 52 was designed to reach this wish. The aft cockpit have been revamped to keep a wide comfortable living area , with an easy access and a good visibility towards the helm station.
This Lagoon 450 S keeps the traditional winning cards of classical Lagoon 450 series, bringing a more friendly atmosphere in the cockpit , specially during nightime.
all maneuvers are concentrated at helmstation, keeping the cockpit safe for children .
A lower boom is another advantage of this Sportop version.  pitching is reduced with same sail area , access to the boom is much more easier.
Hulls have been enlarged above waterline , giving a lot more space in the cabins without altering performances.
many designer tips , in the kitchen for instance, make of this boat a "big" 45′ .
The Lagoon 450 range allows various navigation experiences from coastal to ocean sailing. All this in comfort and safety conditions guaranteed by the largest catamaran manufacturer skills and expertise.
performances are not the last qualities . to make it sure , just take time to compare Lagoon scores in many sailing races; ARC results ( Atlantic Rallye for Cruisers) show year after year that Lagoons are safe and fast catamarans.
this Lagoon 450 S  is sailing towards a bright future.
Link to an extensive  press release from November 2015  Multicoques Magazine issue: http://cata-lagoon.com/documentation/pdf/articles/L450S_MW-15.pdf
---