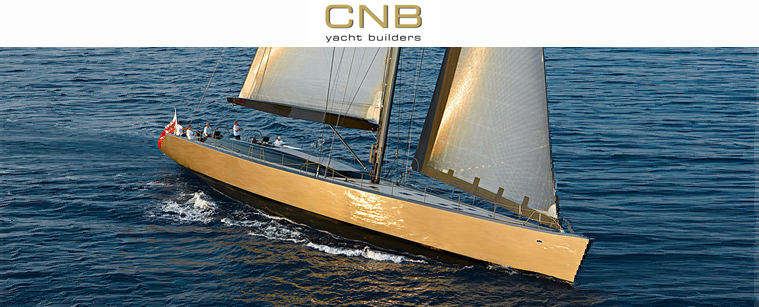 Since 1987, CNB has been building sailing and motor yachts in aluminium and high tech composite from 60′ to 200′. With more than 90 boats delivered to yachtsmen and connoisseurs, we have acquired unparalleled experience meeting the highest standards of technology and luxury. Several prestigious international awards pay tribute to this savoir-faire.

Thanks to the shipyard's experience in building one-off yachts, CNB was able to enlarge its offer and started semi-custom yachts building in 2008, with the support of Groupe Bénéteau which helped investing in a production tool that greatly optimized this type of activity.
It is clear that the company's aim has been to become the market leader in series-produced luxury sailing yachts.
This was a big challenge to meet, as CNB's experience was mainly dedicated to one-off yachts. The idea was to build custom quality yachts for an accessible price and CNB quickly became a leader in this market segment.
The Bordeaux 60, first boat built that way by CNB, has been highly successful with more than 40 units delivered of date, and this encouraged the yard in pursuing this line with the launch of the CNB 76 in 2013. The Philippe Briand designed CNB 76 (just like her predecessor) was shown for the first time at the Cannes Boat Show in September 2013. Less than a year later, seven CNB 76s have already been ordered worldwide.
To assist the promising development of this activity, CNB inaugurated a new 6000 sqm building dedicated to its semi-custom yachts range in June 2014.
As long time sailors we know that beyond the promises, our boats must be fast, seaworthy, comfortable and safe. We build them with the love of the sea and a constant commitment to quality craftsmanship. We build prestigious, unique masterpieces. We design each boat as if we ourselves were the future owners. We are especially proud of this philosophy as builders, as sailors and as yacht lovers.